SHAWN OHLER,
PIYA CHATTOPADHYAY
and MERVIN BRASS
Journal Staff Writers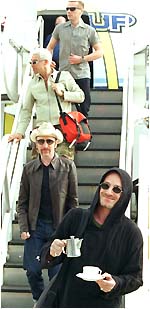 EDMONTON - U2 arrived in Edmonton Friday afternoon with plenty of kisses, words and time for its fans.
Bono, The Edge, Adam Clayton and Larry Mullen Jr. hopped off their customized 727 jet at about 5:30 p.m. on to the tarmac north of the International Airport's main terminal.
Bono was first off the plane, carrying a china teapot and cup.
"We come to bring you tea," he said to a group of reporters awaiting the band's arrival.
As Bono fielded questions from the media, Mullen and Clayton ambled off to waiting Lincoln Town Cars and The Edge wandered the tarmac's perimeter, chatting with ecstatic fans on the other side of the fence.
Debbie Van Petten, who recently got a U2 tattoo above her right ankle, scored an autograph from The Edge, and later, Bono.
"Bono looked at (the tattoo) and said, 'Cool,' " Van Petten said.
"I can't believe they came over and talked to us. How many other bands would do that?"
As Bono walked to greet fans on the opposite side of the tarmac, he was gently ambushed by several female Canada 3000 airline employees.
Marie-Luce Denis, a passenger service agent, laid a wet kiss on Bono's cheek. Bono just grinned.
"Everyone was saying, `Kiss him! Kiss him!' So I did. It was great. What can I say?"
Bono told his fans that U2 is talking to as many people as possible on its current PopMart tour.
"We're trying to be accessible. When you're hiding in limousines, people get the wrong impression of you."
Sabrina Tchorzelski said her ninth-row tickets for tonight's concert at Commonwealth Stadium pale in comparison to meeting Bono.
"I have his face right up close on film. I love Bono," she sighed.
Nicole Latsis and Steve Burgess wanted to thank Bono for introducing them to each other. The engaged couple met on an Internet chat group called Channel U2 last year.
"U2 is the reason we met," said Burgess, proudly clutching a $20 bill signed by The Edge. "This is not getting spent."
Latsis, who flew in from Utah after failing to get tickets to any of the band's American shows, was dumbfounded by U2's friendliness.
"I touched his hand. I touched him," she said, her eyes welling up with tears.
"They're so humble. I just expected them to wave. He signed my book."
After more than a half hour, Bono and The Edge finally hopped into their cars for the Hotel Macdonald, where U2 is staying during its Edmonton tour stop.
Five minutes before band members arrived, hotel attendants were still denying that the Irish supergroup were guests. "We're waiting for an Arabian prince," said one employee.
About 75 fans watched as Bono and The Edge pulled up to the building. They swarmed both men, shoving pictures and pieces of paper at them in a bid to get autographs.
The Edge left after only a couple of minutes but Bono braved the pandemonium and signed several pieces of paper.
Tamara Rousselle, a fan from Vancouver, said she waited at the hotel since noon to catch a glimpse of U2.
"We thought they might try to fool us and arrive earlier," she said.
Back at the airport, one young fan seemed nonplussed by all the action.
"I don't know them. I just came with my counsellor," said nine-year-old Landon Williar.
"Oh look, there's a limo."