PIYA CHATTOPADHYAY
Journal Staff Writer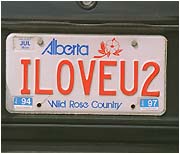 EDMONTON - Americans Clydella Birkholz and Becky Alpert are Pop Tourists.
The two resdients of Dickinson, North Dakota are driving more than 2,000 kilometers in three days to see U2's PopMart tour.
With their car packed with sleeping bags, a tent, and a lot of U2 spirit, Birkholz and Alpert set off from Dickinson on Wednesday and headed for Winnipeg to catch their favourite band at its first stop of its Canadian tour Thursday night.
"We've been going everywhere we can get to. Anywhere that's within a reasonable driving distance. Anywhere that's a one-day drive," Bierkholz, 30, said in a telephone interview.
Birkholz and Alpert were racing down the Yellowhead highway Friday toward Edmonton to see the band again tonight at Commonwealth Stadium.
After seeing Bono and his entourage in Denver last month, Alpert's thirst for U2 was insatiable.
"I've become rabid in the last few months," she said giggling.
"I think we're a little crazy. You have to be crazy sometimes. If I don't do this now when I'm young and have the chance, then when am I going to do this?"
Birkholz and Alpert will be among the 100,000 U2 fans who'll see the band over the next two nights at Commonwealth Stadium.
Edmontonian Robert Bechtel will be the crowd tonight, too. He's such a big U2 fan that he's had the licence plate on his Mazda Protege emblazoned with "ILOVEU2."
"My two best friends are both from Ireland and got me into them. I've been a huge fan since the early '80s," said the 29-year-old teacher.
Bechtel has had the plates since 1986 and says comments increase when the band releases a new album.
"People will drive by me and shout things like 'I love Bono'. I have a sun roof so I can hear them yelling."
While Bechtel will be watching tonight's concert from the stands, Birkholz and Alpert will get up close and personal with fllor seats, thanks to a ticket offer on the Internet.
"Once you hear fourth row tickets are for sale, you start dreaming of it," said Birkholz, who paid $250 per ticket.
"It's worth it. It's fourth row. We'll be right there," added Alpert, who's been saving since last year to see U2.
Driving across the continent to catch their favourite bands is nothing new for these best friends. A few years ago, the pair pursued Def Leppard's Adrenalize tour through three states.
"From that lesson we learned that every show is unique. They do songs differently, but they do other things, like spontaneous songs. It's those unique experiences that we want to try and see," said Birkholz.
Minneapolis may offer more unique experiences this fall when the pair will see U2 for the fourth time.
"I heard that U2 is a band whose concerts get better and better as they go along. So we're hoping the Minneapolis concert will be something a little more different, in some small way."
But even if the band sticks to their old, unaltered routine, Birkholz's level of fan worship will remain untouched.
"I'm a die-hard fan, but I'm not fanatical."