CONOR POPE
The Irish Times (Special to The Journal)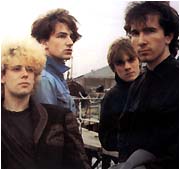 DUBLIN - Feedback was the less-than-inspired name four teenagers from the North side of Dublin chose when they met for the first time in drummer Larry Mullen's living room in the fall of 1976.
Mullen could actually play -- he'd been playing the drums in brass bands since 1971. So too could guitarist Dave Evans, later to become known as the Edge. Paul Hewson (Bono) and bassist Adam Clayton had the posturing down pat but, musically, they were less than fully proficient.
Larry had posted a notice on the Mount Temple Secondary school bulletin board which brought the four together. His note had been careful, referring to: "money wasted on drum kit" and asking: "Were there any others out there" who had done the same on guitars? An inauspicious beginning, then, for a group who would, within a decade, become the world's most popular rock 'n' roll band.
Feedback played just one gig, a school talent show. Their set lasted 10 whole minutes and prompted one teacher to leave the hall in protest at the band's lewd and vulgar performance. They didn't win.
For their second gig they changed their name to The Hype, charged a 25 pence admission fee and added some Rolling Stones and Boomtown Rats songs to their set. It was during this gig in a small school hall that Bono tried bonding with his audience on a more personal level than was considered cool by bona fide rock stars. It didn't really work. The crowd, while appreciating the music, thought the front man in the leopard-skin trousers was a "bit of an eejit."
In the spring of 1978, Larry Mullen saw an advertisement in a Dublin evening newspaper announcing a talent show to be held in the west coast city of Limerick on March 18th. With a prize fund of £500 and an opportunity to audition for CBS Records, The Hype saw it as a chance to bring their emerging sound to a wider audience. They also saw it as a means by which to break into the cliquish Dublin pub rock circuit -- the holy grail for all wannabe rock stars in the city.
On the morning of the competition, the band changed their name to U2 and, with Bono's by now customary intensity and the band's growing musical proficiency, they came an easy first.
Buoyed by this victory, U2's constant hustle for gigs became marginally easier.
Adam Clayton contacted Bill Graham, a young journalist with Ireland's new popular culture magazine Hot Press, and invited him to attend one of their rehearsals in Mount Temple where they had been given a room to practice. Graham accepted the invitation. The fortunes of U2 shifted imperceptibly.
After the rehearsal they all went to the local pub, where the band pumped the journalist for information on the world of rock 'n' roll. Graham left them with one piece of advice which above all else changed their lives: "Get yourself a manager," he said, and gave them the name of Paul McGuinness.
McGuinness was initially unimpressed, disliking punk and new wave music which had been spewed from the heart of Britain. But Bill Graham, by now convinced the band had something special, contacted McGuinness and assured him that U2 were worth the effort.
McGuinness, still skeptical, went to see the band in the Project Arts Centre, one of the city's more prestigious venues, and was suitably impressed. At a meeting afterwards he warned them that the road to stardom was paved with heartache and failure and demanded total conviction.
In early 1979, a Bill Graham interview in Hot Press gave them their first public airing: "U2 aren't interested in gang-bangs, New York pimps ... or indeed the imminent British counter-revolution. Bono's testimony is that after acne comes anguish ... U2 are unmarked by sin, exuberant because they retain innocence," he wrote.
Shortly after the interview, U2 played the first of their Dandelion Market gigs which have become as legendary as the Sex Pistols' Manchester Electric Circus gig in 1976. The venue -- an old warehouse off Dublin's fashionable Grafton Street -- suited the band because it did not have a licence to sell alcohol which meant larger numbers of the band's younger fans could attend.
The coveted "deal" still eluded the band and they found it next to impossible to attract the attention of either the British music press or the major record companies, all of whom were desperately scouring the British Isles for the "next-big-thing."
They signed a deal with CBS Ireland which gave them the freedom to sort out a more substantial international arrangement and together with DJ Dave Fanning, the first Irish DJ to spurn chart-fodder in favor of alternative music, a plan was developed which would ensure them Irish chart success with their first single.
Three tracks -- Out of Control, Stories for Boys and Boy-Girl were recorded and aired on Fanning's show. His listeners voted on which track would be the A-side and 1,000 numbered copies were released. Out of Control was selected and duly released. It charted and gave both the band and manager much needed encouragement to push things further in Britain.
In January 1980 U2 won an unprecedented five awards in the annual Hot Press readers poll, but it was scant consolation as internationally they were still going nowhere. Many bands had made their mark at home. That was easy. The real test lay in proving themselves overseas.
Although the band had no money and the McGuinness bank balance was plunging deeper and deeper into the red, they organized a massive Irish tour, culminating with a gig in the 2,000-seater National Stadium in Dublin -- a venue generally reserved for "real bands" with an international reputation.
The tour was moderately successful. The exceptions being one horrendous night in Belfast where nothing went right and a low-key affair in Galway City's Cellar Bar where, according to legend, the band became embroiled in a minor scuffle with disgruntled members of the audience.
The National Stadium gig was the big one as an A & R man from Island Records, Bill Stewart, had agreed to attend. Ticket sales were slow so an "expansive" guest list was compiled. The night was electric, Stewart was wowed and, in the dressing room of the Stadium, he offered the band "The Deal." Things were falling into place.
Having spent the spring of 1980 touring Britain to promote their first UK single 11-O'Clock Tick-Tock, they came home to begin recording their debut album in Windmill Lane Studio. Island Records' star producer Steve Lilywhite was brought over to work on the album, Boy.
It was released in 1980 to favourable reviews in the British music press. The album cover, featuring Peter Rowen -- the brother of a Virgin Prune -- naked from the waist up, caused outrage in some quarters in the United States with allegations that the band were, in some bizarre way, legitimizing pedophilia.
As a result Warner Brothers changed the artwork for the North American market.
The began their first major US tour in March 1981, playing the Bayou Club in Washington DC. For three months they slogged their way across the USA and Canada, playing third-rate venues and staying in fourth-rate hotels. It was tough, but ultimately it worked. Live the band had something: a raw and emotional energy which could not be captured in studio.
In June 1981 the band returned to Windmill Lane to record their follow-up album, October. The American tour had ended with two sell-out gigs in New York City and the importance of the follow-up could not be overstated. In August they played a massive gig in Slane Castle, 40 miles from Dublin City, a venue more used to hosting rock luminaries like the Rolling Stones and Bob Dylan.
A cloud appeared on the horizon, however, one which came perilously close to breaking up the band. Faith -- or rather, Larry, Bono and the Edge's faith -- contrasted with Adam's desire to fully immerse himself in the heady side rock 'n' roll, was something the band were having difficulty with.
Everyone but Adam had long been involved in a Christian sect known as Shalom. It allowed the band members to indulge themselves in a humility that was a far cry from their rock personas. But Shalom had become critical of the band's endeavors arguing that they were losing focus.
Late in 1981, after October -- an album filled with overtly religious symbolism -- had been completed, the three Christians arrived in McGuinness's flat and told him they weren't interested in touring the album because they were unable to reconcile their beliefs with the rock lifestyle. McGuinness, appealing to their sense of honour, convinced them that they had obligations, both moral and legal to fulfil, and they reluctantly agreed to do the tour.
The American tour, aided by a support slot with the then important J Geils Band in the States, was a watershed. Suddenly, playing in front of potentially hostile crowds, the band were amazing, wild, raunchy and above all else, rock 'n' roll.
The band had proved they could handle the big stage, and handle it with consummate ease. History beckoned.