SHAWN OHLER
Journal Music Writer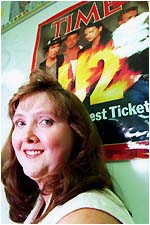 EDMONTON - In 1983, a chance meeting with U2's Bono in Dublin changed 17-year-old Deirdre Elder's life.
Elder wasn't some rabid fan, stalking the superstar singer in his hometown.
In fact, she didn't even know who Bono was.
"It wasn't who he was that was important at the time, it was what he said," recalls Elder, now a 31-year-old Grade 12 teacher at Leduc's Christ The King junior/senior high school.
"He was a total stranger to me. But when you're questioning things, and someone provides you with something that looks like an answer, it can be a stranger that has the biggest impact."
Elder, whose parents are Irish, was visiting family in Dublin when the meeting occurred.
She and a male cousin had, as the custom goes, made an afternoon trip to a local pub. It was Elder's turn to buy, so she made her way to the bar.
"I was talking to the bartender, and he picked up my Canadian accent and started giving me a hard time about it," she says.
"All of a sudden, another man joined in on the conversation and remarked that there are a lot worse accents to have other than Canadian accents, and he pointed out some Americans who were in the corner of the pub. We were laughing about that."
The friendly stranger asked Elder what she was doing in Ireland. She told him about her family, and that she was thinking about attending Dublin's famous Trinity College to get a teacher's degree.
Elder told the man -- who she remembers as "scruffy, and kind of cute" -- that Irish teachers commanded and received more respect from their students than their Canadian counterparts.
"He then told me something that I'll never forget," Elder says.
"He said respect is something you have to fight for. He said that he was a musician, and if there was ever a profession that lacked respect, it was that.
"But he said you can't let that bother you. You have to be true to yourself, and you have to have the cráic." (Pronounced "crack," it's a Gaelic expression that roughly means having fun.)
Elder took the man's advice back to her table, where her cousin was sitting with his mouth hanging open.
"Do you know who you were just talking to?" he asked.
"Yeah, some guy and the bartender," Elder replied.
Elder's cousin told him it was Bono from U2.
"It still didn't register, because they weren't really an issue yet in Canada," she said.
It was only around 1987, the time U2's blockbuster record The Joshua Tree was released, that Elder became a fan of the band's music and Bono's message-filled lyrics.
But she never forgot his words of wisdom in the pub.
Elder said Bono's advice erased the questions she had about whether she truly wanted to be a teacher, whether she'd be any good it.
"It had a dramatic effect on my life. It gave the courage to put me in the place that I am today, and, in a small way, it gave the means to get here," she says.
"A lot of times when you're a teenager, you're always looking and trying to identify with things. And for whatever reason, what he said and the way he said, I really took hold out of it."
She'll be sitting on the floor at Commonwealth Stadium tonight, in row 95.
"I'll be thanking him then," she said.