SHAWN OHLER
Journal Music Writer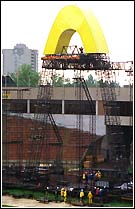 The arrival

Sources close to the Irish supergroup say the band and its entourage will land at Edmonton International Airport Friday at 5:20 p.m. in a customized 727.

Gawkers will have no trouble spotting the plane -- it'll be white with a huge lemon painted on the tail. (The fruit is one of the PopMart world tour's icons. Before the band's first encore, for example, a glittering 11-metre-high lemon opens to reveal the band standing inside.)

From the airport, U2 will ride to the Hotel Macdonald, where sources say they are staying.

Brolly ban

The concert goes rain or shine. Commonwealth Stadium officials are banning umbrellas from the site, along with cans, bottles, liquid containers, telephoto lens cameras and audio and video equipment.

Guinness on tap

A local beer retailer has been asked to hook up Guinness beer taps at both the Westin Hotel and the Macdonald so the band and its crew can enjoy some Irish suds. The crew -- which numbers 200 people -- is rumoured to be staying at the Westin.

EDMONTON - The cacophony rises from Commonwealth Stadium's floor, a hundred hammers thudding, saws slashing through timber -- all for Bono's timbre.

Two cranes strain under the weight and 11 forklifts fly about as self-described "plywood specialist" Jason Hannley helps spread 6,000 sheets of wood over the field that will be home to U2 this weekend.

Nearly 300 local workers took over the stadium earlier this week, setting up 16,000 chairs and piecing together an enormous custom-designed stage for the Irish band.

The average rock show has about 10 trucks of equipment. U2 has more than 40 trucks to haul its 50-metre TV screen, 30-metre arch and assorted equipment.

The mere size of the stage, about half the size of a Canadian football field, has left many local crew enamoured.

"Just the scale of this show is many-fold bigger than the others. It's just such a big, big show," says Rob McTavish, who also worked on the production crew at the AC/DC and Garth Brooks concerts.

Nearly half of the local crew worked on the 1994 Rolling Stones concerts at Commonwealth.

"This is huge. How many people do you know that have set up a show like this?" asks Darren Webber, who supervises the local crew.

The work is long and laborious. Coupled with the hot weather or the occasional rain shower, the 12-hour work day becomes even more intense.

Ian Falcon, a theatre production student at Grant MacEwan College grins like a young schoolboy.

"I'm so glad to be working on such an elaborate show. I'm amazed by the amount of manpower and organization."

Crews will begin working around the clock Friday, when 200 additional crew and a convoy of 30 trucks lugging the band's gear will roll in from Winnipeg.